Infiltrometer Blower Door Test
Our state of the art and exclusive Infiltrometer provides you a one-of-a-kind way to differentiate you from the competition and the standard blower door test.
House Report
Every home needs fresh air so we can have a safe and healthy living environment.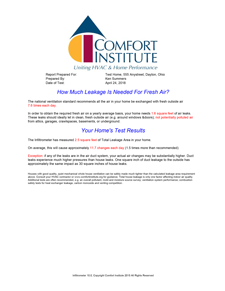 This report informs the homeowner of:
How Much Fresh Air They Need
How Much Fresh Air They Are Getting
We find most homes are much greater in leakage than originally thought. When this happens, comfort, humidity, dry air in winter and cold spots are commonly found.
House Leakage Report
It is important to understand the building airtightness as well as the optimum leakage.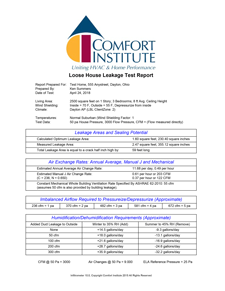 This report provides:
Humidifcation Needs
Dehumidifcation Needs
Imbalanced Air Flow Required
Infiltration Air Change Rates
Flow Hood Leakage Report
Understand duct leakage on the supply and return side plus the total of the HVAC system.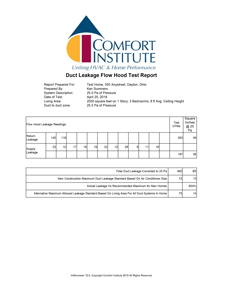 This test is performed by using a blower door and a flow hood.
Quickly Measure Duct Leakage
Compare Leakage to ACCA's 6% Leakage
Imbalanced Air Flow Required
Efficiency Analysis Report
Show the importance of sealing ducts & what happens if leaks are not repaired.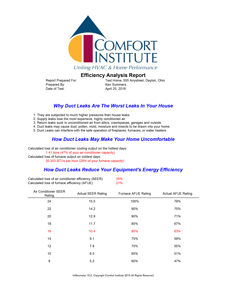 This report is based on system duct leakage and will show degrade of the equipment in capacity and efficiency.
Why Duct Leaks Are The Worst Leaks
How Duct Leaks Affect Comfort
How Duct Leaks Reduce Efficiency
SEER Degrade Due to Duct Leaks
When you decide to join Comfort Institute and implement the whole house approach into your business you don't have to start from scratch! We provide professional marketing support so you can get the most out of every home without starting from scratch.
Your membership gets you access to a lucrative rebate program that in many cases will cover the cost of your membership. You are already paying for your tools, why not get money back? With this rebate program you can expect a 1-3% return each quarter on your total expenses.
We have partnered with TruTech tools to get our members a 10% discount on the tools they require for everyday use. We understand that every little bit matters when looking at your bottom line and this is just one of the many ways we set you up for success.
Tired of paying loan fees? Our partner provides you various options to fit all of your consumers' needs while never charging you discount or loan fees. This consumer financing is available for all credit scores and allows for easy, instant approval. Your consumers are looking for financing. We provide you a turnkey solution to offer it.
Hogs n' Hot Rods
The First CI Member-Only Event
Starting in 2018, the CI member support team is hosting exclusive events for CI members.
In July 2018, CI will host its very first member-only event: Hogs n' Hot Rods. CI Vice President of Training Ken Summers will lead CI members on an open road motorcycle and hot rod trip throughout Ohio, Tennessee, and Kentucky. Participants are to supply their own motorcycles and hot rods.
Check out the video, and expect more information on CI member-only events in the future.