101 Class Flyer
 Earn your Comfort Institute Home Performance Certification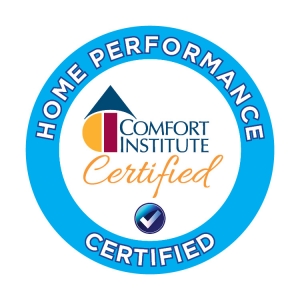 This four-day intensive technical class is for HVAC contractors stepping up to Home & Duct Performance. Participants learn the fundamental skills to perform diagnostics and repair.  They will also learn the requirements and be prepared for the BPI Building Analyst and Envelope Professional online certification exams that are given on day five.
In order to be certified through CI/Aeroseal the participant will take the written exams for the BPI certification if they pass the minimum requirements. No field exam is required for the CI/Aeroseal certification.
If a participant wants the BPI certification and have passed the written exam they have one year to take the field exam required by BPI
Prerequisites
Junior high school math, it is recommended that the participant has witnessed a blower door test on a home; while it is not required the participant will have a greater learning ability if they have seen one.
CI Members & CI Duct Performance Experts are given access to CI's library of DVDs/Videos and a recommended viewing list prior to the class
Already BPI certified: This class qualifies for 18 BPI CEUs.
Class Curriculum
Fundamentals of Building Science
House as a System interactions
Rules of air, heat and moisture flow
Air infiltration driving forces
Construction, pressure, & energy terminology
Infiltration/duct leakage/closed door impacts on building pressures
How dust, humidity, comfort, utility bills & CO enter the home
How to interpret Blower Door test results
How to determine Thermal/Pressure boundaries
How to perform Series Pressure Diagnostics
Infra-red camera use and interpretation
How to perform BPI Carbon Monoxide, spillage, CAZ depressurization & vent draft testing
Air infiltration repair materials
Insulation properties, R-values and U-factors
Attic & crawl space renovation processes
Utility bill disaggregation, baseload savings
BPI BA & EP Standards interpretation
The fundamentals of the DTC (duct testing) certification protocols for the field exam